Moderna Housewares is the distributer of Ozeri, the Brezza II by Ozeri raises the bar for all other desk fans! It has dual oscillation motors that deliver cooling airflow with automatic horizontal and vertical motion. The fan has 3 motor speeds, and is very quiet. This is a well made fan, one that will last a long time. I thought about just showing pictures, but I decided to do a video so that you could see it work. This is the first time I have tried a video review so let me know what you think.
[tube]http://www.youtube.com/watch?v=1bBQosUmxNM[/tube]
You can check out more of there products at Ozeri.com or if you would like to buy this fan you can head to the OzeriStore.com
You could always win one too!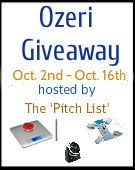 a Rafflecopter giveaway